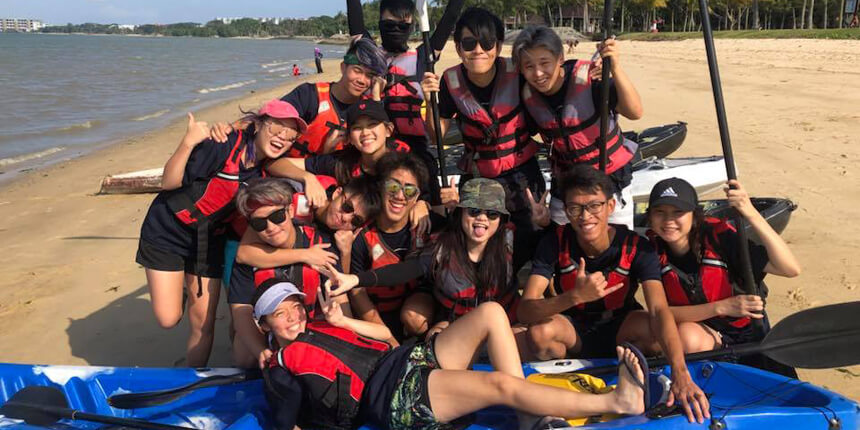 Team building activities are an effective way to reduce stress, improve attitudes and get your group to learn how to work together toward team goals. Our mix of fun filling sports & interactive challenges will have all energized with laughter, inducing organizational culture and productivity.
*We offer campout session at selected sites. Call for more information.
Team Structure
Group, forming teams of size 5 to 8 members each
Grouped by working groups of the same operating functions
Team Leaders: To be led by respective Managers/Student/Social group Leaders
Deputy Team Leaders: To be appointed by Team Leaders for each race event
Team names : To be assigned by numbers, followed by team names (Team 1 "Alpha", Team 2 "Bravo")
Challenges
Rising Tides
Each team (2 in one Kayak with half a paddle each) to paddle out to a designated place, all switch position while on kayak, and return to shore.
Participants work on their balance and group trust.
The Blind Spot
Each team (3 on one Kayak) to paddle. 2 team members will be blindfolded, other team member must communicate directions to manoeuvre a simple obstacle course (Land or Water).
To enhance communication skill, leadership & teamwork.
Camp Out
Group of 4, led by team leader to set up a tent while being blind folded.
To enhance teamwork, commitment, patience, leadership and creative thinking.
Shark Attack
Each team, 2 on each paddle board without paddle. Team members are obtain various objects to create a means to move. To compete by best timing, to maneuver a course.
To enhance creative thinking as a team.
The Last Stand
2 on 2 battle on floating platform, team with last man standing wins.
To enhance communication and strategy.
"If you never did, your should. These things are fun, and fun is good.."